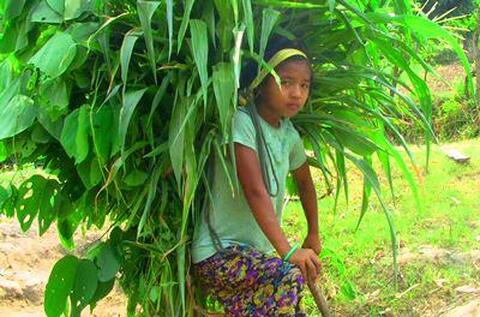 Though the Syubas' main occupation is paper making, it does not provide enough income for their daily necessities. Thus, most Syubas are engaged in agriculture. In terms of income, they depend on farming and jungle herbs. 
                Syuba people sow their fields in June and reap their crops in December These efforts provide their main sources of income. Their main crops are potatoes, maize, and wheat. They also cultivate buck-wheat, radish, green and other vegetables. But their main source of income is potatoes, which they sell to provide their daily necessities.
               For their livelihood in ancient times, they used to breed many kinds of livestock like sheep, buffalo, cows, goats, and horses. Many Syuba men were shepherds who use to tend many sheep. Syuba women used to make various garments with wool and sell them. No longer rearing sheep, they now raise goats and buffalo for daily income. These days, young people are engaged in various forms of employments. Some go abroad to work, others are employed in the Nepali or British armed services. But nowadays Syubas seem not to have much trouble getting food and managing daily life. They have enough land and field for cultivation, though they haven't been able to use the land adequately. If they could use the land appropriately or wisely for the cultivation of different crops, they could have enough income. Generally, Syuba people do not want to spend money in a business, education, or health. That is the reason why there are few Syuba people who have a good education.